OmegaLink Interface & Excalibur 70 Series T-Harness Lookup Guide
OMEGALINK | SEARCH BY VEHICLE:
Excalibur 70 Series T-harness Lookup Guide: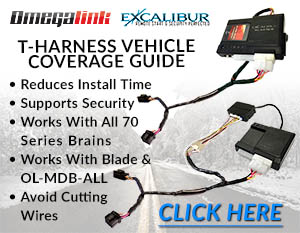 View Our Excalibur Remote Start T-harness Lookup Guide
Click the image to see vehicle coverage for OmegaLink 'OL-HRN-RS' T-harnesses. They allow you to use OL-BLADE-AL or OL-MDB-ALL with any 70 series remote start! To see install guides, use the vehicle lookup above or login and go to our Install Guide Server.
New Interactive Excalibur Catalog:
Size: 8Mb | Format: PDF
(Adobe Reader™ Required)
Browse Our NEW Excalibur Remote Start Catalog
Click the thumbnail image to browse our interactive 2018 Excalibur catalog. This new edition contains all Excalibur Systems, NEW RK kits for A La Carte system design, Analog T-harnesses, Key Accessories and more!
- Download PDF version here.
Video: How To Activate & Configure The LINKR-LT1
Linkr-LT1 & Linkr-LT2 (coming soon with 4G LTE speed) cover 90% of your customers' needs at half the price. Get full featured control, alert, tracking, AND the first year of service included for the price of competitors' service alone!
Omega Dealer News
8/25/20: 634 wire location images added
8/25/20: Vehicle database updated to include new 2017 models.
- 2020-21 Kia/Hyundai's confirmed for OL-HRN-RS-HK T-harness
- v2.0 FM8 harness now supports RS Firmware with OL-MDB-ALL!
6/24/20: 2015+ Hyundai/Kia images added!
7/10/19: Tons of new vehicles added, vehicle interface &namp; t-harness lookup updated. Lots of new images coming soon.

8/10/18: Several vehicles added and new Interactive Excalibur Catalog published.

3/5/18: Over 100 vehicles have been updated on wiresheet.com the past 2 weeks.

2/24/18: NEW Linkr-LT1 is available. Super fast setup. check it out at www.omegalinkr.com

4/12/17: Linkr activation long delay problem has been fixed. Subscriptions can be purchased 15 minutes after installer clicks FINISHED on the test page. This step MUST be done.
10/6/16: Linkr installer activation utility released
10/5/16: Vehicle database updated to include new 2017 models
5/27/16: A bug that prevented the feature/accessory toggles from working in Safari has been corrected for all you Mac users out there.
Most Recent Vehicle Updates