OMEGALINK | SEARCH BY VEHICLE:
Please select a vehicle to find your perfect solution...
Excalibur 70 Series T-harness Lookup Guide: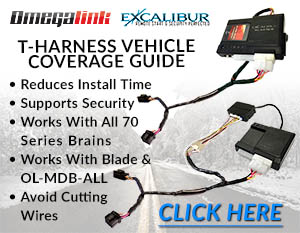 Size: 2Mb | Format: PDF
(Adobe Reader™ Required)
View Our Excalibur Remote Start T-harness Vehicle Coverage Guide
Click the image to download our full vehicle coverage guide for 'OL-HRN-RS' T-harnesses that make Excalibur remote start installs STUPID fast. They allow you to use OL-BLADE-AL or OL-MDB-ALL with any 70 series remote start! To see install guides, use the vehicle lookup above or login and visit our Install Guide Server. You'll be so glad you did!